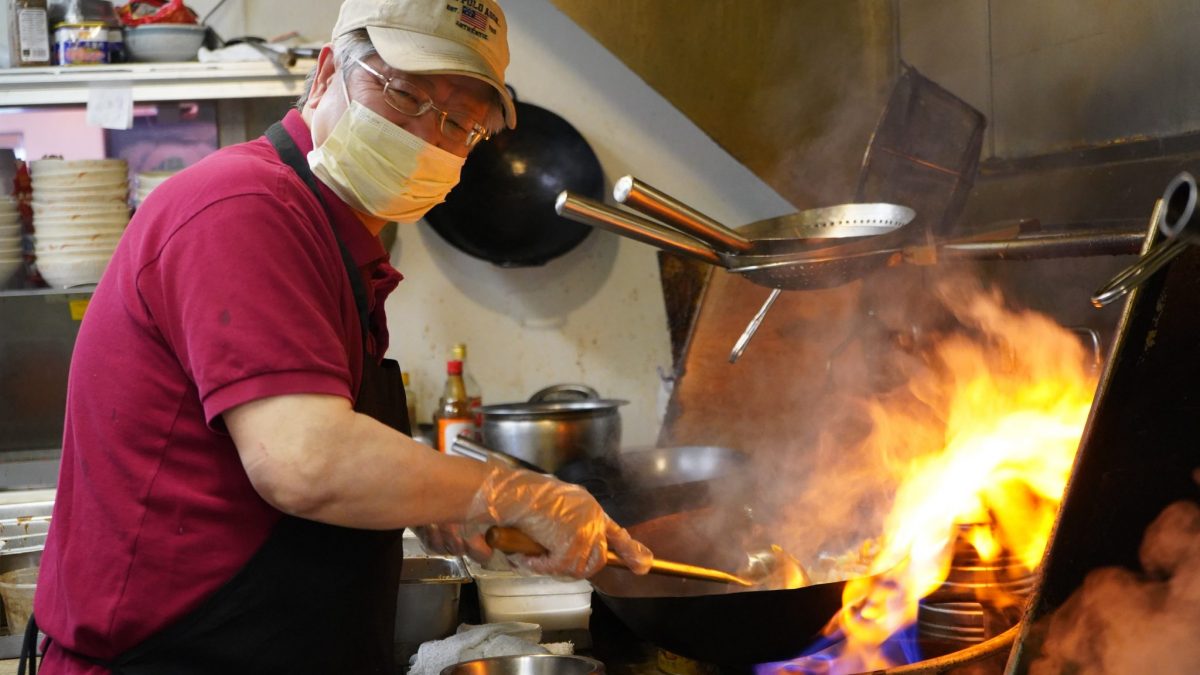 East Lansing Asian restaurant copes with pandemic, discrimination
Ginny and Danny Cheung say their East Cafe has received seven phone calls from someone targeting their Asian restaurant because of the novel coronavirus pandemic.
But the Cheungs add they're more concerned about people staying safe from COVID-19 than with a person they characterize as a prank caller. The restaurant has remained open for carryout and pickup orders after Gov. Gretchen Whitmer closed bar and restaurant dining rooms on March 16.
"It happened in one day. So, we decided not to report to the police, as they have much more important cases to solve," said Ginny, who has run the Hong Kong-style Chinese eatery with her husband for eight years. "If the guy continued calling, I would have probably reported it."
The Asian Pacific Planning and Policy Council said it has received more than 750 reports of coronavirus discrimination targeting Asian Americans since it launched a reporting center on March 19. Verbal harassment and name-calling is the most commonly reported incident, making up two-thirds of reports, according to the Los Angeles-based group.

Ginny and Danny Cheung have been working in the restaurant business since the 1990s. Danny Cheung's father had a restaurant in Hong Kong when he was young.
Ginny assumed that the person who called was a student. She said both she and her husband answered similar calls to the restaurant. They said they tried to the caller, but he quickly hung up.
The Cheungs said they just want people to follow stay-at-home guidelines to protect themselves and others from COVID-19. They've been following numerous precautions in their restaurant, including wearing masks …
"A week ago, young Americans didn't realize the coronavirus spread might get to this dangerous level as today," she said. "That's why he probably decided to make a joke and called to us."
Ginny said the restaurant hasn't received any similar calls recently. She said she hopes the caller realized the seriousness of the pandemic and his actions.
The Cheungs have been working in a restaurant business in the U.S. since the 1990s. They ran five restaurants before opening East Café.
Ginny said the caller to her restaurant indicated he wanted to place an order.
"What would you like to order?" she asked the caller.
"Wuhan Coronavirus, please," the caller said.
"What?" she said.
"Can I have a Wuhan coronavirus?" the caller said.
"I believe this was the same person. Male, in his younger age. He spoke American English, no accent," Ginny said. Ginny said the restaurant's caller ID didn't detect a phone number.
"The phone call seemed serious as nobody was laughing at the other side of the phone," she said. "I told him to behave well and pay more attention to his studies rather than doing this."

East Lansing's East Cafe is open for takeout and delivery during the novel coronavirus outbreak.
Danny said his father opened his first restaurant in Hong Kong in 1972. He said they had never faced such discrimination before.
The Cheungs typically employs five people, but have been running the restaurant themselves since Gov. Gretchen Whitmer closed bars and restaurants to on-premise dining on March 16. They said they hope coronavirus spread will end soon and they can reopen the dine-in business. They said they estimate they've lost 50 percent of their revenue because of the COVID-19 pandemic.
"Moreover, there are comparatively less takeout and delivery orders than used to be," Ginny said.

Zholdas Orisbay
I have been reporting to different media outlets in Kazakhstan for over 5 years. Nowadays, I am learning documentary filmmaking and New Media at MSU, and freelance writing to informburo.kz.