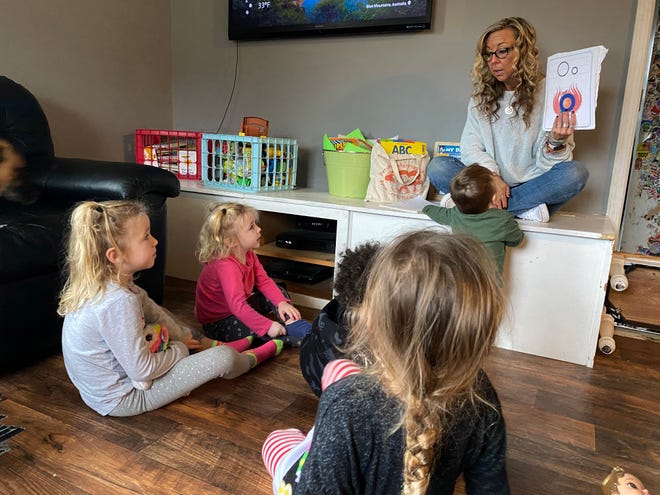 COVID-19 drives new initiative to support affordable child care
By ZHOLDAS ORISBAYEV
Capital News Service
LANSING — Advocates hope that a pilot program to split child care costs among businesses, government, and families in West Michigan will lead to a similar program statewide.
"This program has potential to put Michigan on the map and the (statewide) coalition would absolutely like to see this expanded across Michigan at some point," said Alexa Kramer, the director of government affairs for the Grand Rapids Chamber of Commerce, which initiated a statewide coalition to address it.
Kramer said that it is a unique program to address an important need for employers.
"If businesses elect to be in this program and decide to contribute funding, their employees, who earn up to 250% of the federal poverty level, will get the cost of child care covered," Kramer said. "This will motivate residents to go to work, as child care will become more affordable to them."
That's an income of about $65,000 for two working parents with two kids.
Rep. Greg VanWoerkom, R-Norton Shores, said in a recent statement that the new state budget plan included $1 million for the tri-share child care pilot program to provide working families with increased access to high quality and affordable child care.
Kramer said local businesses are willing to join as the high cost of child care affects their employees.
"The COVID-19 highlighted how important child care is for the workforce and how much of a business issue it is," she said.
Kramer said the program will be tested in rural, suburban and urban areas in the western part of Michigan. Muskegon is one of them. The others are not yet selected.
"These three sets of communities have various issues when it comes to the child care industry, and we want to find out about them with this pilot program," she said.
Kramer said that the coalition also aimed to help to create more providers in rural communities, as some of them do not have one.
Members of the coalition include Nkechy Ezeh, the chief executive officer of the Early Learning Neighborhood Collaborative, Gayle Orange, chief executive officer of Camp Fire West Michigan 4C, and representatives from the Frey Foundation, Steelcase Foundation, Doug and Maria DeVos Foundation, Kent Intermediate School District, Grand Rapids Community College and the Early Childhood Investment Corp.
The state government provided additional funding in a new budget to increase the income eligibility level for the state's child care subsidy, said Alex Rossman, the Michigan League for Public Policy's communications director.
The 2021 budget includes the first significant change in the income eligibility threshold for child care subsidies in many years, Rossman said. Those who are eligible earn up to 150% of the official poverty rate, up from 130% of poverty.
Michigan has one of the lowest income eligibility thresholds for child care assistance in the country, and the increase was already in Gov. Gretchen Whitmer's budget proposal before the pandemic, Rossman said. "The cost of this expansion from January through September of 2021 is $27.6 million, with an estimated full-year cost of $36.8 million."
"It means child care is affordable to more Michigan families now," he said.
Whitmer also announced on April 29 the $130 million Child Care Relief Fund, which is a grant program for child care providers to cover costs, stay in business and make child care more affordable during the COVID-19 state of emergency.
Rossman said that child care providers were eligible to apply for this grant and to the Paycheck Protection Program, which was provided by the federal government. Child Care Relief Fund grants are available now and will be until 5 p.m Monday, Nov. 16.
Many parents work nontraditional hours and struggle to find child care, Rossman said.
"As the schedules of traditional child care providers don't work for them, we are trying to promote policies that will help improve child care options to those individuals," he said.

Zholdas Orisbay
I have been reporting to different media outlets in Kazakhstan for over 5 years. Nowadays, I am learning documentary filmmaking and New Media at MSU, and freelance writing to informburo.kz.