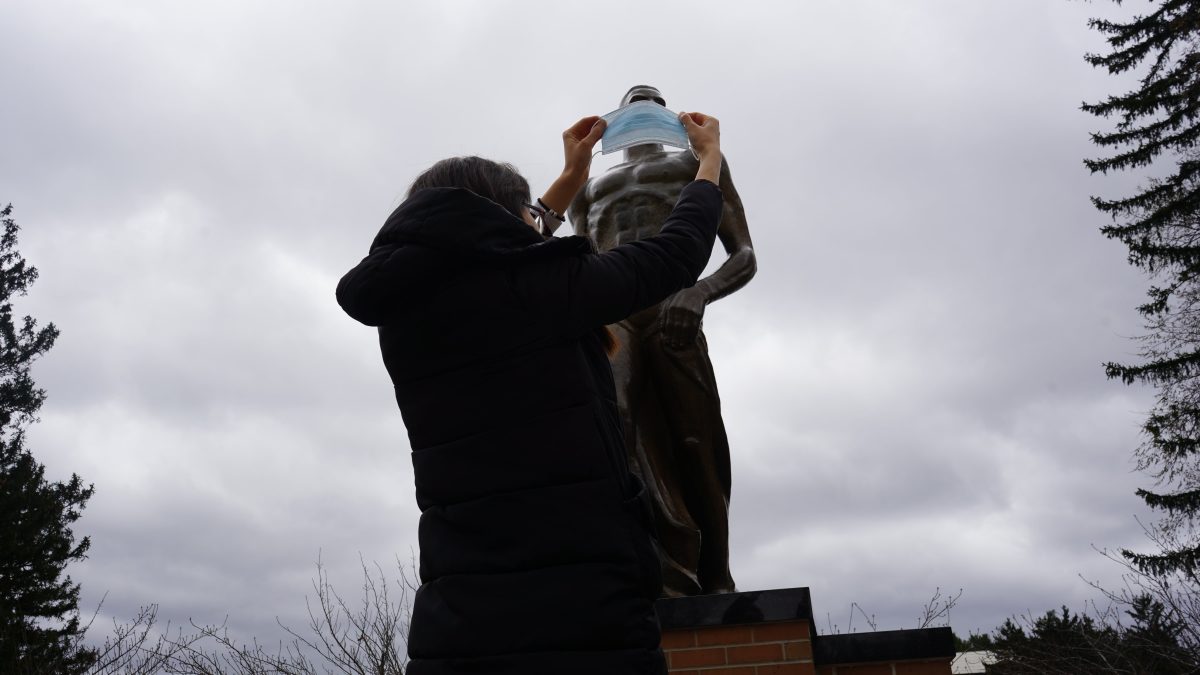 How COVID-19 impacting Lansing area
We talked to several people who lost their jobs or shortened revenues but still trying to go through in their best.
Keith Henry, a beer distributor in the Lansing area, says her family business still considered an essential business, and their operations are ongoing.
"Our sales are still going out and merchandising shelves. But we are not selling beer to restaurants and bars. That's why we have much less revenue," Keith said. "Anyway, we still keep our workers with their regular hours."
She also said they are strictly taking precautionary measures against coronavirus pandemic. "We are wearing masks, practicing social distancing, and sanitizing around the office," she said.
Keith, with her husband Dan, owns a small business, called Dan Henry Distributing Co. They have been doing this business for over 30 years and never had such an unprecedented period before.

Keith Henry in a parking lot of Kroger in East Lansing/ Photo by Zholdas Orisbayev
A huge impact, as Keith says, is the cancellation of all sports events.
"In the beer business, we depend on different sports events, as people usually go to bars to watch the matches and drink beer," she said. "And there is a potential that students would not come back in fall to the campus because of the pandemic. It might hit the business largely."
"We still have customers. Unlike bars and restaurants, we are doing some carry-out, which barely pays the bills," she said. "We feel fortunate to be where we are right now."
Like all other small business owners, Keith and Dan applied for the Paycheck Protection program. But they are unaware when they will receive a loan from the government's relief package.
Dylan Lott, a senior mechanical engineer student at MSU, hopes his future career would not be affected by the quarantine measures of the pandemic.
"As I am graduating this year, I am expecting to start my professional career in near August," Dylan said.
He says that he has a job lined up in Ohio. He hopes the stay-at-home order will be lifted by mid-summer so that he could start his professional career.

Dylan is at East Lansing high school stadium, where he usually spends time/ Photo by Zholdas Orisbayev
Dylan said he used to spend his leisure time doing sports activities. But, now, he is not working out in a gym, as it's closed temporarily.
"I am more biking and doing the cardio type of activities now," he said. "I try to do running every day, but I usually have one to two days off."
He also said that he used to buy half-ready food or dined in restaurants. But, now, he says he is paying more attention to healthy eating.
"I started to look carefully at what I am eating to support my immune system. That's why I am cooking at home rather than ordering it."
Jay Chase, another resident of the Lansing area, also lost his job due to stay-at-home order. He used to work in Wash World car wash.
"From the very beginning of stay-at-home order, I decided not to work in my last workplace. As the owner did not supply us with necessary precautionary supplies," he said.
He said they were allowed to use only one pair of gloves per shift. And there were no disinfection measures at all.
When all non-essential businesses closed, Jay received a call from his manager to help him to do minimum operations. But, he refused, even he needed to earn.
"I would probably work in there if they treated us well and took precautionary measures," he said. "I do not want to risk my life and contract the virus."

Jay Chase at Lansing Community college before the pandemic/ Photo by Jay Chase
Besides his job, Jay is studying at Lansing Community College for Radio and Broadcasting. He applied for unemployment insurance and paying more attention to the study from now.
Melinda, 33, is now delivering the food via the app DoorDash for full time. She said she used to work as a sales manager in a shopping mall.
"Because of the stay-at-home order, I have lost my job," she said. But I saw the delivery app and decided to do it pay my rent and other bills."
Melinda also said that she is making less by delivering the food than as the sales manager did. But she lucky for still earning money, as millions of Americans are struggling to find the job right now.
Melinda is a Lansing area resident. She said that she is getting paid more for delivering the food as people started to appreciate more.
"People understand that we are taking risks by delivering orders. So, they started to tip more," she said.
Tags In

Zholdas Orisbay
I have been reporting to different media outlets in Kazakhstan for over 5 years. Nowadays, I am learning documentary filmmaking and New Media at MSU, and freelance writing to informburo.kz.