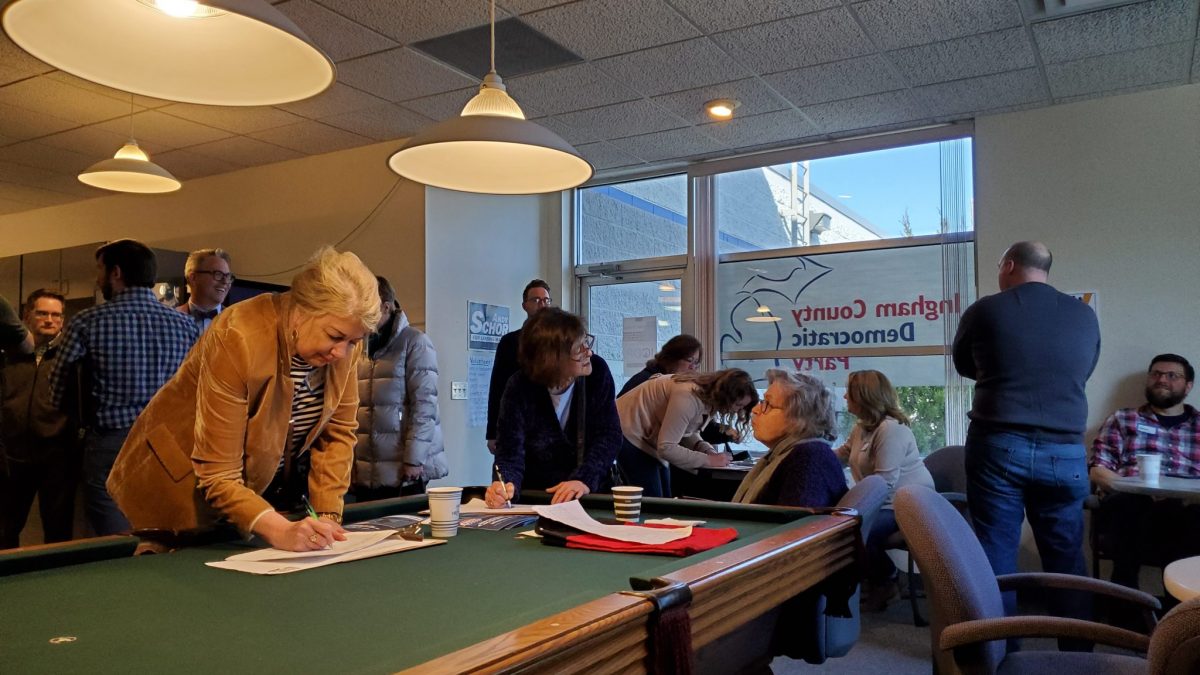 Michigan Democrats work to turn state blue in presidential race
When Donald Trump won Michigan in the 2016 presidential election, Carol Bleau decided it was time to get involved locally in politics.
Bleau is among the county Democratic Party officials in Michigan working to keep the state from voting red again this year.
"Our county is mostly red. That's why we are actively promoting the idea to persuade some portion of residents to vote blue. We welcome new members in almost every meeting," said Bleau, who chairs the Iosco County Democratic Party. "When I moved to Iosco in 2018, there were about 40 members of the Democratic Party. Now we have 130 of them."
Barb Conley of Leelanau County said that "go blue, no matter who" is a popular mantra among Democrats in her county. She thinks Trump's 2016 win was an anomaly for a state that voted for the Democrat in the previous six presidential elections.
"Republicans won Michigan electoral votes with a minimal margin, and I cannot say that Michigan is a red state," Conley said.
Many county party chairs have been among volunteers going door-to-door in the weeks leading up to Michigan's March 10 primary, which former Vice President Joe Biden won. Volunteers and local party leaders have been promoting Democratic candidates and pushing get-out-the-vote efforts, Conley said.

Supporters of the Ingham County Democratic Party celebrate the opening of the party's field office on Feb. 23. with snacks and sandwiches.
"Our precinct delegates have recently completed door knocking to understand the issues of our communities and brought out the idea that people could vote by absentee or early," she said in an interview before the primary.
Conley said even though Leelanau County went quite red in the 2018 midterm elections, Democrats won several township offices. Those local wins helped expand Democratic ideals, she said.
Keith Flynn, chair of the Genesee County Democratic Party, said people of his county lean more favorably now to Democrats.
"As you know, the water crisis in the Flint area was created by the Republican governor and Republican legislators," he said. "People talk about issues which directly impact their life."
Flynn also criticized the president's civil rights record and the way he's talked about minority and marginalized communities.
"We have a president of the United States who doesn't worry about creating additional hate among communities," he said. "His record in civil rights is atrocious, and it's un-American, and people are witnessing it."
Sanilac, Allegan, Macomb and Oakland are among the Michigan counties where Independents often lean Republican. Democratic Party chairs in those counties reported they have been working hard to change that.
"We believe we are bigger this year, even though Republicans are the majority here," said Carole Partlo, a vice-chair of the Sanilac County Democratic Party.
Ed Bruley of Macomb County said he believes many people sat out in the previous election.
"In 2016, we had about 10,000 people who did not show up to vote. Neither Democrats nor Republicans receive those votes," he said. "I am pretty sure that this year we will have fewer people who decided not to participate in the election."
Vaughn Derderian, a Democratic chair of Oakland County, said his party has a good chance to win this year.
"The 2016 election was an object lesson, and you could not take anything for granted. You have to participate actively to win," he said.
"Democrats in Michigan were active in the 2016 election. But, this year, we are more united, I am sure that we are going to get those electoral votes."
Allegan County Democratic Chairwoman Jill Dunham said party officials and volunteers in her county organized phone banks to encourage people to vote by absentee ballot in the primary.
"We decided not to knock on the doors to reach our residents before not knowing whether they are Democrats or Republicans," she said.
But Dunham said she's confident Democrats can win Michigan election victory after their improved performance in the 2018 midterm elections. Democrats won statewide races for governor, attorney general and secretary of state, and they picked up to congressional seats.
"I am confident that Michigan electoral votes will go to Democratic candidate this year," Dunham said.
Allison Youngs of Chippewa County noticed that the Democratic Party has more volunteers this year, and people are engaged to work to get votes.
"We do not usually go out and actively promote election candidates until we get the nominee," she said.

Ingham County Democratic Party Chair Chris Swope, who also is Lansing city clerk, gave a speech to colleagues and guests of County's field office opening in Feb. 23 in Lansing.
Ingham County Democratic Party Chair Chris Swope, who also serves as Lansing's city clerk, said the primary is the test run for Democrats.
"We have got our campaign office open, so we are gathering volunteers together," Swope said. "We are focusing on promoting Democratic ideas and largely building our volunteer base to win."
The local party did not promote any of the democratic presidential candidates individually, but has been engaging people to talk about the issues, he said.
"We are pretty far ahead of the 2016 election scale. Once we get a Democratic nominee, he starts helping to increase turnout among Democrats in our county," Swope said.
Benzie County Democratic Party Chair Jimm Dulzo and Roger Gauthier of Cheboygan County said they did not have many events to promote the primary election. But Dulzo noted the blue wave of Michigan was robust in the 2018 midterm election.
He said Democrats are concentrating on beating Trump.
"People haven't lost their motivation this year too, and we make sure to motivate them more," Dulzo said. "Democrats are very mobilized and united this year."
Gauthier said Democratic voters know the important role they play this year.
"The big question for us is to turn Michigan blue again," Gauthier said. "Michigan was alarmed by Trump in the previous election. And people knew that their vote could have changed the outcome that year. This year, we believe in having different results."

Zholdas Orisbay
I have been reporting to different media outlets in Kazakhstan for over 5 years. Nowadays, I am learning documentary filmmaking and New Media at MSU, and freelance writing to informburo.kz.